Aquatic Facilities

Appropriate Swimwear Policy
Appropriate swimwear must be worn at all times to maintain a clean, safe and inviting environment for all our patrons. Clothing, other than swimwear, can create problems with water clarity, pool disinfectant and our water filtration systems.
Aquatic Facilities at Pelican Park
Pelican Park Recreation Centre's premier facility offers a wide variety of features ensuring there is something for everyone to enjoy. Including the 25m swimming pool, leisure and toddler pool, spa and steam room.
25m Swimming Pool
Providing you with a range of great options, we expect this pool to be a big hit with competition swimmers, fitness swimmers, school groups and swimming clubs.
The shallow end of the pool (starting with 1m depth) will be popular for learn to swim, free play and water exercise programs. The pool has a moveable lane ropes that can create 6 x 25 metre lanes and a recreational swimming area, allowing the flexibility around our programs and ensuring that our members and casuals have plenty of lap swimming space. The 25m swimming pool's maximum depth is 1.8m.
Leisure Pool
Specifically catering for beginner and intermediate swimmers, this dedicated pool will allow tuition to all ages and abilities making learning to swim a great experience.
Swimmers can enjoy separate change facilities and large groups are advantaged by separate entry facilities.

The leisure pool has a gradient pool depth with a minimum depth of 0.6m and a step entry at the shallow end. The maxium depth at the deep end is 0.8m.
Toddler Pool
The toddler pool offer you water sprays, geysers and a Pelican waterslide! What could be more fun for your little ones? Don't worry parents, we haven't forgotten about you.
There will be some great vantage points to enjoy watching and supervising your child/children as they enjoy all kinds of water activities that will keep them entertained whilst you have time to relax.

The toddler pool has an enticing beach entry and has a maximum depth of 0.45m.
Spa & Steam Room
If the 25m pool and leisure pool are not quite your pace, then imagine pure relaxation and indulgence in our warm spa and steam facilities.
You can enjoy the specialist health benefits associated or simply relax and enjoy a serene and beautiful aquatic environment.
Entry to the this area is restricted to persons aged 16 years and over. You must have a wristband from reception to access the spa, steam and sauna facilities.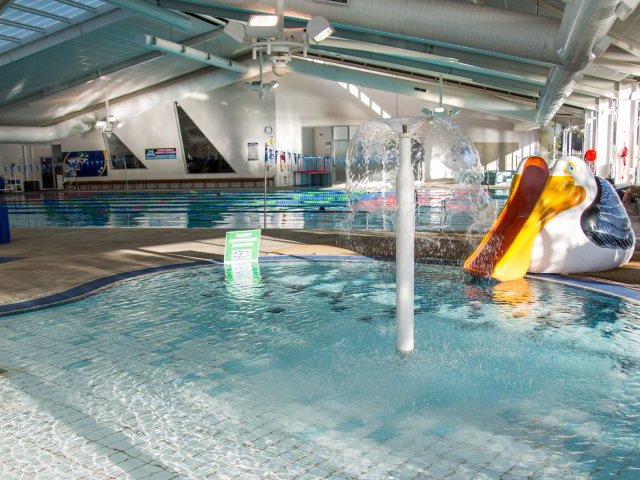 Casual Swimming at Pelican Park
Enjoy time to yourself swimming laps, or bring your family & friends down for a splash.