Adults

Adult Swimming Lessons

It is never too late to learn to swim. The GOswim Adults Program offers water safety and stroke development tailored to meet each student's needs.

In small groups students will develop skills to ensure they are more comfortable and confident participating in Aquatic activities inside of and beyond our Aquatic Centre.

Swimming lessons will enhance the opportunity for students to gain meaningful learning outcomes that aids their level of aquatic information, skill and comprehension for safer participation in, on and around water.
The Curriculum
The GOswim Adult Program is designed for adults and teens 16+. They are held at our centre with 1 teacher per 6 students for a greater tailored experience. Each swimming lesson will run for 30 minutes.

All classes are delivered by a professional and fully accredited learn to swim teacher, within a safe and encouraging environment. You are sure to feel comfortable and confident in our family friendly, social environment.
Adult Squad & Stroke Correction
This session is a casual entry class for adults who would like to improve fitness and/or increase stroke correction. In this program, you will be required to be able to swim 25 metres unaided.
The program is run on Tuesdays from 6.30pm - 7.30pm.
Due to Covid-19, this program is not currently running.

Adult Learn to Swim FAQs
Expand all
Learn to Swim Benefits
Adult swim lessons are not just for adults who don't know how to swim. Our classes offer a range of benefits when you're in the water.
Improved confidence in the water

Increase swim stroke development

Improved survival ability

Correct swimming techniques

Cardiovascular and resistance-based exercise

Improved joint range of motion

Improved strength and overall fitness
Learning to Swim as an Adult
Our adult's classes are designed to cater for all abilities and cultural backgrounds. Learning to swim as an adult is just as important as learning to swim as a child.

No matter your age, where you're from or what level your current swimming capabilities are at. Our adult swimming lessons will help you improve your swimming and water safety abilities.

Learning to swim is also a great form of exercise and will enhance your health, fitness and quality of life. Adult swimming lessons will allow you to lead a happier and healthier lifestyle.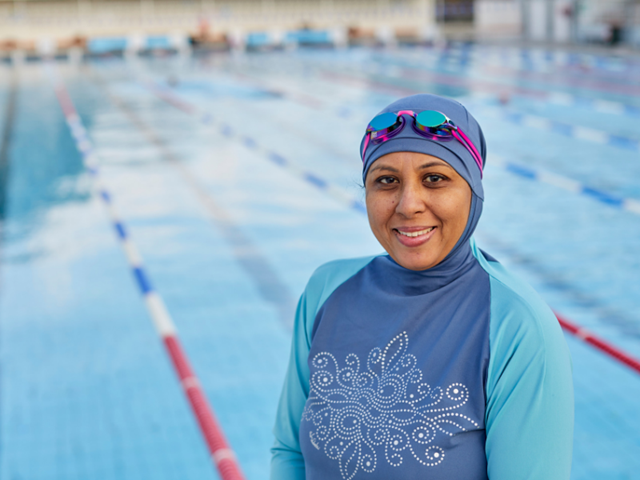 Join Adult Swimming Lessons
If you're ready to get started in our adult swimming lessons click below. We look forward to having you in the water with us soon!